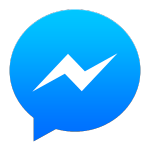 Użytkownicy Facebooka korzystający z popularnego Messengera, który do tej pory służył wyłącznie do bezpłatnego czatowania, skorzystać mogą teraz z jego nowej funkcji. Wideorozmowy, bo o nich mowa, dostępne są także w Polsce i to całkowicie bezpłatnie!
To świetne rozwiązanie dla użytkowników Facebooka, którzy od teraz nie będą potrzebowali dodatkowych aplikacji do prowadzenia tego typu rozmów, wyszukiwania znajomych, panowania nad kilkoma różnymi książkami adresowymi, a Facetime i Skype chyba powoli odejdą dla nich w niepamięć…

Aby wypróbować najnowszą funkcję jaką daje nam Messenger nie trzeba aktualizować aplikacji, wystarczy się do niej zalogować (lub skorzystać z czatu z poziomu przeglądarki) i otworzyć okno konwersacji z innym użytkownikiem, a w prawym górnym rogu pojawi się ikona kamery… i gotowe! Funkcja dostępna jest dla urządzeń z systemem Android i iOS.
Jeśli jeszcze nie zainstalowaliście aplikacji Messenger na swoim urządzeniu, możecie zrobić to tutaj: