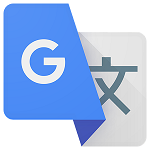 Aplikacja Tłumacz Google z możliwością pracy offline to niewątpliwie jedna z ciekawszych propozycji, oferowanych przez dwa najpopularniejsze sklepy z aplikacjami – App Store oraz Google Play.
Tłumacz Google w wersji mobilnej to niesamowicie przydatne narzędzie. Jego coraz bardziej zaawansowana i rozbudowana forma sprawia, że grono użytkowników internetowego (a w tym również mobilnego) słownika z dnia na dzień rośnie. Dzięki możliwości pobrania pakietów językowych, program nie wymaga od nas stałego połączenia z internetem. Funkcja ta, może się świetnie sprawdzić szczególnie w czasie zagranicznych podróży. Aplikacja daje nam wiele innych, równie atrakcyjnych rozwiązań, a w tym np. oznaczanie tłumaczeń gwiazdkami, dzięki czemu w przyszłości z łatwością odnajdziemy oznaczone wcześniej wpisy.
Wypróbujcie Tłumacz Google w darmowej wersji mobilnej, aby zyskać jeszcze szybszy dostęp do obszernej bazy językowej, dostępnej również w trybie offline!