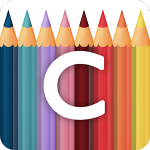 Colorfy to nic innego, jak zbiór kolorowanek, które dzięki mobilnej wersji aplikacji, zabrać możesz dosłownie wszędzie. To doskonały sposób na spędzenie wolnego czasu, który dodatkowo pozwoli Ci się zrelaksować.
Jeśli szukasz metody na skuteczne odprężenie i pozbycie się złych emocji po ciężkim dniu w pracy, kolorowanie może okazać się dla Ciebie zbawienne. Myślisz, że malowanki to dobry pomysł, ale jedynie dla dzieci? Mylisz się. Nie od dziś organizowane są warsztaty, których celem jest nauka umiejętnego radzenia sobie ze stresem. Ich elementem bardzo często są właśnie zajęcia plastyczne, które mają zbawienny wpływ na nasz umysł.
Colorfy jest aplikacją, która umożliwi Ci spędzenie wolnej chwili w bardzo relaksujący sposób. Zbiór tych przepięknych rysunków jest naprawdę imponujący, dlatego też nie musimy martwić się o to, że malowanie szybko się nam znudzi. Autorzy Colorfy zadbali również o to, aby interfejs był równie przyjemny dla oka, stawiając na prostotę i łagodną kolorystykę. Swoimi malunkami będziesz mógł podzielić się ze znajomymi – wysyłając do nich wiadomości, maile lub udostępniając obrazki w serwisach społecznościowych.
Aplikację zainstalujesz na swoim urządzeniu z iOS i Androidem za darmo.