Możliwe, że Slack poznaliście już wcześniej. Aplikacja dostępna jest już od dłuższego czasu, zarówno w wersji mobilnej, jak i przeglądarkowej. Do tej pory zdania na jej temat były nieco podzielone. Negatywne opinie dotyczyły głównie kilku niedopracowań, które w pewnym stopniu uniemożliwiały poprawne korzystanie ze wszystkich funkcjonalności programu. Jednak od kilku dni w sklepach Google Play i App Store znaleźć możemy odświeżoną aplikację Slack w wersji 2.0, która już teraz doczekała się wielu pozytywnych komentarzy.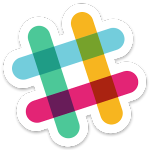 Slack to bardzo nowoczesne narzędzie do zarządzania projektami, pracą zespołową, a także do komunikacji w firmie. Efektowne wykonanie aplikacji z pewnością umili jej użytkowanie, które następuje w sposób intuicyjny. Slack w wersji mobilnej posiada praktycznie te same funkcje, co jego przeglądarkowa wersja. Narzędzie zintegrować możemy między innymi z Google Docs, czy też dyskiem Dropbox. Komunikacja poprzez Slack to bardzo przydatna funkcja, która doskonale usprawnia ten proces. Konwersacja z innymi użytkownikami przypomina trochę czat, do którego w prosty sposób podpinać możemy załączniki. Okna dialogowe posiadają oczywiście podział na poszczególne kanały, czy też projekty – w końcu służyć ma organizacji naszych działań.
Pierwszym krokiem, który musimy wykonać aby rozpocząć pracę z programem, jest zarejestrowanie konta. Dokonamy tego niestety tylko w wersji przeglądarkowej i korzystając z firmowego adresu e-mail.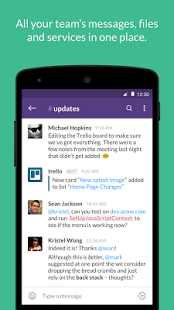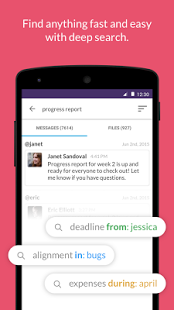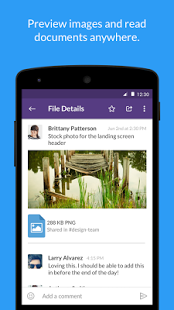 Aplikacja dostępna jest na urządzenia z Androidem, iOS oraz OS X. W wersji z 5GB miejscem i możliwością zintegrowania pięciu aplikacji pobierzemy ją zupełnie za darmo, dzięki czemu użytkownicy zyskują możliwość darmowego przetestowania programu.