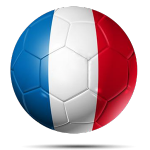 Jeśli jesteście fanami piłki nożnej, to z pewnością wyczekujecie już tegorocznych Mistrzostw Europy z zegarkiem w ręku. Aplikacja EURO 2016 z przypadnie wam do gustu, ponieważ pomoże wam w prosty sposób zaplanować udział w tych mistrzostwach

Program to tak naprawdę kalendarz spotkań EURO 2016. Dostarcza on podstawowe informacje o rozgrywkach, czyli dokładnie rozpisany harmonogram wszystkich spotkań, wraz z datą i godziną ich startu. Jeśli obawiacie się, że mimo wszystko moglibyście przegapić któryś mecz, z pomocą przychodzi opcja ustawiania przypomnień. Wystarczy, że swoją ulubioną drużynę dodacie do ulubionych, a aplikacja sama przypomni o meczu – na dzień lub godzinę przed.
Aplikację pobierzecie na urządzenia z systemem Android za darmo.